OLIVE OIL: TAKE CARE OF THE INSIDE AND THE OUTSIDE TAKES CARE OF ITSELF
The saying 'beauty radiates from within' is often understood with respect to individual personality and character, but it is also true in the sense that what we eat can fundamentally impact our external appearance.  As the largest organ in the body, our skin is the major interface between us and the external environment, so it is essential we take great care of it. Whilst the health benefits of regularly consuming Organic Extra Virgin Olive Oil as part of a Mediterranean diet are commonly known, how often do we consider the benefit of using it as part of a natural beauty regime?
OLIVE OIL: AN ANCIENT BEAUTY EXILIR
Beauty rituals have existed since ancient times as people have searched for the elusive 'fountain of youth'. Olive Oil applied directly on skin dates back thousands of years to ancient Greece where the Olive tree thought to be a gift from the Goddess Athena was considered sacred because of its health and beauty benefits.  Used in cosmetics, as a natural eyeliner mixed with charcoal for example and natural skin care, in face masks and moisturisers, women in ancient Greece recognised the cleansing, protective and anti-aging properties of Olive Oil and used it abundantly to enhance their appearance. This ancient wisdom has transcended time and olive oil is still used today as an ingredient in skin care products. But what of using Olive Oil in its purest form as the ancient Greeks did?
OLIVE OIL: A NATURAL INGREDIENT FOR GREEN BEAUTY
Whilst for some people, using oils is counterintuitive for fear it might leave the skin oily, I personally have not found this. As an advocate of DIY beauty products, I have experimented with a variety of oils on my skin, which is naturally dry in parts so thirstily drinks up the oil, leaving it smooth and more elastic.
I admit, until now, Olive Oil has not been part of my regime, but the antioxidant, anti-inflammatory and healing properties of polyphenols naturally found in Extra Virgin Olive Oil and high vitamin E content that have been proven to fight free radicals and combat oxidative stress which causes collagen breakdown, dark spots, and premature aging make it a natural choice for a green beauty enthusiast.
If you are new to making DIY beauty products or using natural oils directly on your face, there are several ways Olive Oil can be used as part of a natural beauty regime.
Makeup Removal: Because oil attracts oil, using olive oil can help dissolve oils commonly found in makeup. Either remove makeup from around the eyes using a few drops of oil on cotton wool and gently wipe across the eyes to avoid wrinkles or massage onto your face in a circular motion and rinse with warm water to remove stubborn oil-based foundations.  
Exfoliation: A simple mixture of a teaspoon of extra virgin olive oil and sugar or salt produces a natural exfoliant to remove dead skin cells and leave your skin feeling rejuvenated and smooth.
Cleansing: Mix equal quantities of olive oil and castor oil and rub on to your face. By rinsing with a warm cloth, you can dissolve the oils, dirt and pollutants that clog up the pores and cause blackheads without stripping away your natural barrier and disrupting the skin's microbiome. This important layer keeps the body healthy by communicating with our internal immune system, fighting infection, reducing inflammation, and protecting the skin from environmental damage. Cleansing with oil is a great first step, especially for people with dry skin and can be followed up with a double cleanse using foam or gel-based cleansers for those with combination or oily skin.
Moisturising: Because Olive Oil has occlusive properties enabling it to act as a sealant to trap in moisture, it has an excellent moisturising effect when used on damp skin or over water-based products, helping to protect and balance your microbiome.
It is not only the face that can benefit from Olive Oil, but it can also be used to soften cuticles, as a scalp oil (leave overnight for maximum benefit and avoid if you suffer from dandruff) or as an alternative to shaving creams.
OLIVE OIL: NOT ALL ARE MADE THE SAME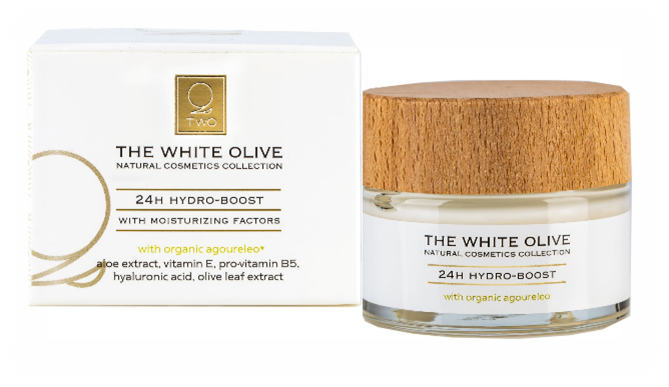 If you want to use Olive Oil on your face, then quality matters. Fresh, early harvested Organic Extra Virgin Olive Oil is always the best option to ensure a good concentration of polyphenols and vitamins. November Early Harvest Organic EVOO contains above 450mg/kg of polyphenols and is therefore an excellent choice not just for consumption but also external application and a little goes a very long way! If you are not into DIY beauty, then purchasing products that contain Olive Oil is also an excellent option. Why not begin the year by trying out products from The White Olive range and start to experience the amazing benefits Olive Oil can have for your skin?