INFUSED OLIVE OILS: A GOURMET INGREDIENT FOR EXCEPTIONAL AROMA AND TASTE:
Yesterday was a great day. At 9.30am I received notification from a courier that there were only 26 stops before my parcel containing a shipment of November Organic Infused Olive Oil would be with me. In an age of what seems like endless lockdowns, I have grown to appreciate some of the simpler pleasures in life, particularly food, so like a child at Christmas time I was excited.
Infused oils are a wonderful and healthy alternative to any cooking fat and a simple way to give meals a gourmet touch by adding aroma and flavour to almost any dish. What specifically attracts me to the November Infused Oils is not only that the base organic extra virgin olive oil has proven health benefits due to its high polyphenol content, but also November infuses their olive oil with organic essential oils obtained from plants to achieve their unique combination of flavours. Typically, I have avoided flavoured oils that contain floating ingredients like rosemary or whole garlic cloves because the water or oxygen they contain are a food safety risk, so this is a big bonus for me.
INFUSED OLIVE OILS: HOW TO USE IN COOKING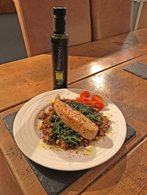 Whilst waiting for my shipment to arrive I had given some thought as to how I might use the oils in my cooking. I decided to start simple and use as a drizzle for my evening meal. In less than 20 minutes from starting preparation,I was samplingmy first taste of November Organic Infused Fennel and Lemon Olive Oil by creating a delicio
us meal of salmon filet on a bed of wholemeal grains and spinach accompanied by a tomato salad with a light infused olive oil drizzle to add a subtle and delightful flavour of aniseed and lemon. It was delicious.
Inspired by my success, my next culinary adventure will be to use the second of the infused oils Laurel and Orange as a Marinade to enhance the flavour of what would normally be a bland chicken breast. I am mindful that the intense flavours of infused oils can overpower a dish and may not be to everyone's taste so I will use a combination of three parts oil to two parts vinegar.
There are other simple ways the oils can be used. If I think of them as a condiment, I can add to soups, sauces, mayonnaise, and salad dressings to give exceptional flavour. If, like me you do not like intense or overpowering flavours in food, then cutting the infused olive oil with a high-quality oil to balance the flavour is a great option. The November Infused Olive Oils bundle includes a bottle of pure organic Extra Virgin Olive Oil, so you don't need to compromise on quality.
A little research into using as a cooking oil for Sauteing Meat or Vegetables highlights the importance of cooking at a lower temperature, so the oil does not burn and spoil the flavour. One way to avoid this is to add the oil during the final stages of cooking to ensure maximum flavour and aroma is maintained.
INFUSED OLIVE OILS: LOOK AFTER THEM
Storing oils is an important consideration for maintaining their health benefits and flavour. Air, heat, and light can cause oil to degrade. Whilst the premium bottles of November Oils may look great and are easily accessible sat next to the hob on the kitchen counter, it is advised to store away from direct light and heat, preferably in a dark cupboard and not a fridge.
November Organic Infused Olive Oils are a wonderful ingredient for people who love their food but may not have the time to create delicious gourmet dishes every day. Order your bundle today to start a new culinary journey for yourself or as a perfect vegan gift for family, friends or corporate clients.